Garden and Landscape Design Services
Welcome. We love garden design. A well-designed outdoor space compliments your home, creates a place for you to relax and your kids to play, and provides so many reasons for you to get outside and connect with yourself, your family and the healing benefits of nature.
Our unique design process is holistic, in-depth and responsive to your lifestyle and home landscape. We believe good design is life-enhancing. We take the time to get to know our clients, their preferences and the details and idiosyncrasies of their existing landscape.
Our technical expertise as landscape architects and artistic aspirations as garden designers ensures that the process with be fun, creative, practical and that the outcome - your design - will be the solution your landscape has been waiting for.
Our designs are perfect for DIYers who will use the plans as a guide to implement their outdoor space over time OR the plans can be used to get competitive quotes from landscape contractors and instruct the construction process.
Our passions are modern design with naturalistic plantings, incorporating edibles and productive plants into the landscape, and creating spaces that revive and rejuvenate the mind, body and spirit.
Our Design Process:
Intake - an in-depth inquiry into your aesthetic preferences, lifestyle, budget, wishlist and maintenance needs.

Site Inventory and assessment to understand sun, shade, drainage, soil, wind patterns, microclimate and existing vegetation.

Draft Concept Designs - sketches, images, models. We use visual tools like Pinterest and 3-D modeling to enrich the design process and review it together to get it just right.

Landscape Master Plan - We bring it all together with a design that makes the most of your land, budget and wish list. We provide a landscape plan that you can install yourself or with contractors, all at once or phased over time.

Construction Support (optional). We will provide support during the construction process by getting several quotes from trusted contractors and coordinating implementation to ensure a smooth process and exceptional results.
Garden and Landscape Design Services:
This package includes all that you need to create your dream home landscape on your own or with a contractor.
Package includes:
- Intake where we'll walk your property, discus landscape issues, preferences and wish list for your new landscape design.
- Site Inventory and Analysis and creation of scaled base plan of existing features
- Draft Concept Designs and review session
- Final Landscape Package which includes:
- Landscape Master Plan (CAD drawing)
- Planting Plan + Plant List which show exact placement variety and number of plants
- Material recommendations and product specifications document
- Other technical plans available as needed: Lighting plan, grading plan, layout plan, element details, etc.
Fees: $1000 to $1500+ dependent on location, property size, design features and required technical details.
We will provide a design proposal outlining a set fee, process and timeline. Please contact us at landstudioeast@gmail.com to get started.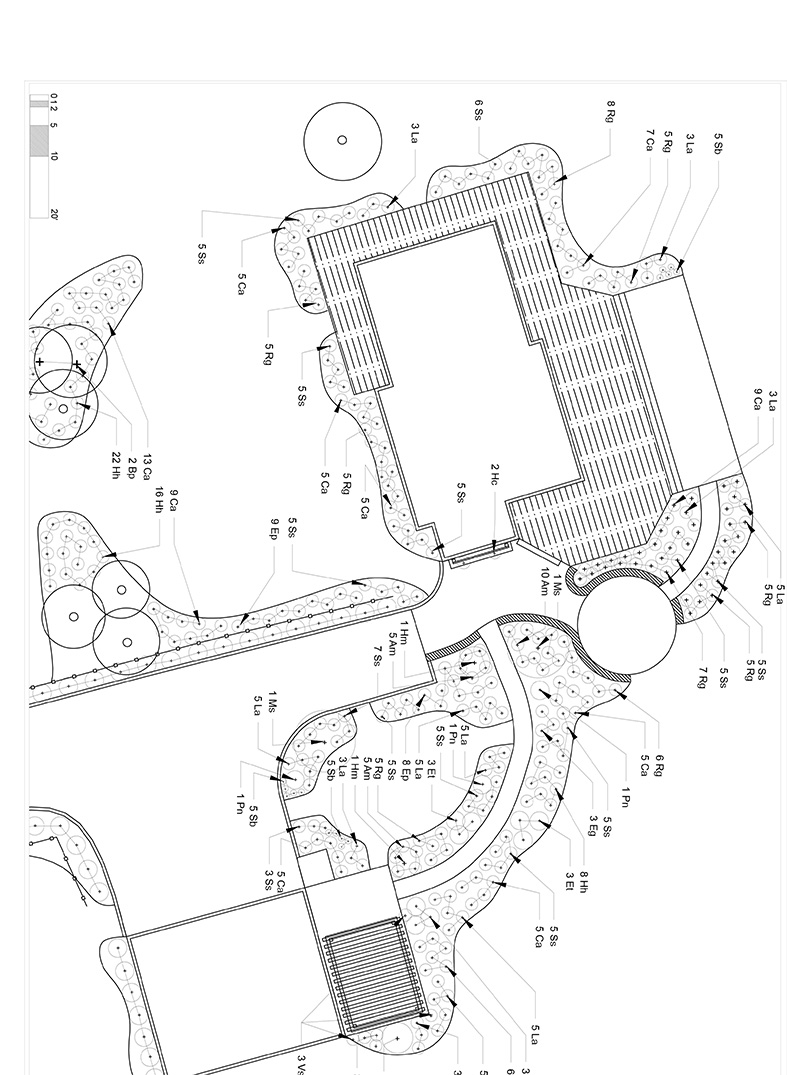 For those of you who already have a concept plan or who are looking for planting design rather than hardscape design. This package is included in the Full Garden Design Package (above).
Package Includes:
- Planting Plan
- Plant List
Fees: $600 to $1000+ dependent on location, property size and complexity of plantings. We will provide a proposal outlining a set fee, process and timeline. Please contact us at landstudioeast@gmail.com to get started.
New Construction Site Plans
Our services include providing construction documents for siting the house, laying out important elements - including driveways and septic systems, grading and landscape design.
We can help you plan and design your dream home, take advantage of great views, maintain existing vegetation and balance cut and fill.
On coastal sites we work with innovative ecological techniques (living shorelines) that are an attractive economical alternative, or addition, to rock walls to strengthen the barrier between your property and the ocean.
By planning right from the start, you'll end up with a beautiful property that saves you money, compliments your home and suits your lifestyle.
Contact us today to get started on making your dream landscape a reality.